After some months of hard work, we are proud to announce that we have added support for studying Simplified characters through our simplified course.

Course details
The simplified course, just like the traditional course, teaches items according to their HSK order. All character and word pronunciations reflect how the words are spoken in China. This is different than our traditional course that mirrors Taiwanese pronunciation. Additionally, we use Mainland audio throughout the course.
It currently has 2.3k characters and a couple hundred of words, in addition to all components and sounds. We plan to continue to add to this every week. You can expect us to hit 3,000 characters and 3,000+ words well before you can catch up to what we already currently have!
You can learn more about it on our simplified course documentation page.
Selecting the course (new users)
All new users of HanziHero will be able to select studying either simplified or traditional characters when creating their account.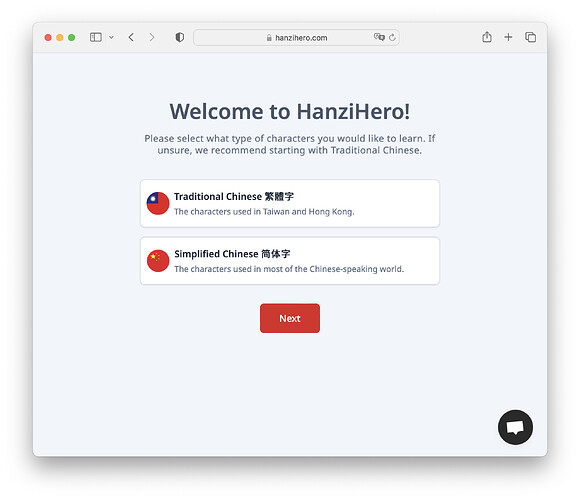 You can find more details about how it works on our register for an account documentation page.
Switching from traditional to simplified (existing users)
We are in the process of implementing logic for switching from the traditional to simplified course. We haven't nailed down exactly how it will work, but you can expect it to be released within two weeks. When we release it, we will post another announcement here in the community (which show up on the dashboard as well).
For those curious about how it will work, switching courses will transfer all of your current progress over, so you don't need to start from scratch. However, any items that are in the traditional course but not in the simplified course will no longer be part of your reviews. Additionally, any items that have different pronunciation or slightly different visual form (strokes) will also be reset, so you can learn the simplified one correctly in your lessons.
We believe that it is best to focus only on one character set when studying, and have no immediate plans to support simultaneous studying. My own experience has been that focusing on just one character set has allowed me to advance much more rapidly than when I tried to learn both for a brief period of time.
We are very excited to implement this course switching feature, as many of our users have already voiced their desire to learn simplified characters instead. While I'll always have a soft spot in my heart for those beautiful and complex traditional characters (I've already learned 3.7k through HanziHero!

), it's hard to argue that learning simplified characters is more practical.
As always, if you have any questions or comments of any kind, let us know. Our main motivation for continuing to build this has been to help the Chinese language learning community. Your kind words of encouragement keeps us going!

Help us spread the word about the best way to learn Chinese characters

.